Shopping
at Sham Shui Po
There is no shortage of shopping in the mixed business and commercial district that is Sham Shui Po, in fact the choices can be bewildering at first. Unlike most tourist destinations here you will find no shops selling just souvenirs, rather there are shops that cater properly to local needs but as a visitor allow you to see parts of the real Hong Kong.
Check out some of these areas which are dedicated to particular types of shopping.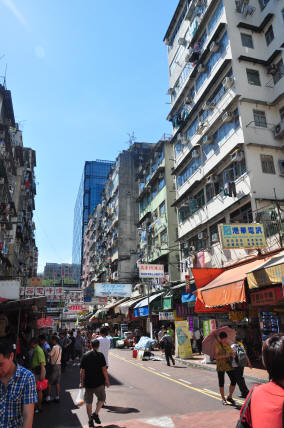 Apliu Street Flea Market - A heaven for the gadget crazy, the best place for the electronic hobbyist, the go-to place for Makers and DIY fans, this popular street market is probably the most common reason for people in other parts of Hong Kong to visit Sham Shi Po. If you want an LED lamp, a coil of coax cable or a TTL 555 then this is where you would go. Photographic enthusiasts seeking lights, umbrellas, clamps and stands are also well served here.
Open daily from late morning through to late in the evening the street is for pedestrians only after noon and buzzes with life every day, but particularly so on weekends. Venture also past the Maple Street Playground to the southern end of the street which has wholesale fabric shops, open office hours only. Use Exit C2 in the MTR for the Flea Market. website
Golden Shopping Centre - This two part arcade has been the centre of computer shopping in Hong Kong since the very earliest personal computers were born. So synonymous has it become with computer shopping that for the computer enthusiasts in the 1980s and 1990s the term "Sham Shui Po" was considered to mean Golden Shopping Centre! Still a hive of activity today these crowded passageways are crammed with shops selling the latest PCs, laptops, phones and tablets. Exit D2 in the MTR comes to street level just across the road from the entrance to the Golden Computer Arcade, while the Golden Computer Plaza is accessed from the middle of Fuk Wing Street.
Dragon Centre - Located next to the historic Sham Shui Po Police Station this most modern arcade and by far the largest in the area this building next to Cheung Sha Wan Government offices housing dining, high tech shopping, and local brands on nine levels. A mini-mall called Apple Mall within the centre focuses on tiny shops offering cutting edge funky fashions and accessories. A food court and indoor skating ring complete the facilities.
Pei Ho Street Market - This typical Hong Kong "wet market" in the municipal services building is a great introduction to daily life in Hong Kong. See where fresh fruit, vegetables, meat and fish are purchased on the lower floors. While upstaris the cooked food market offers traditional cafe and street food in an indoor setting with shared tables and stools. Authentic Hong Kong dining at its best with fast and delicious foods at budget prices, be prepared to order via pointing if your Cantonese skills are not good though as there is little English spoken here.
Ki Lung Street - With fabric, both wholesale and retail, Buttons and wholesale Gems for sale in this street it has everything that an enthusiastic crafter or seamstress would want. Check out the neighbouring Nam Cheong Street, Yu Chau Street and Ki Lung Street for ribbons, beads and buttons together with all manner of exotic decorations. The southern end of Apliu Street, away from the electronics market, also has wholesale fabric.